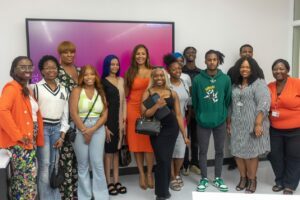 Kennedy-King College welcomed 16th Ward Alderwoman Stephanie Coleman on Friday, June 2, for a meet and greet with Early College Spring and Summer graduates. The Early College program allows students to fast-track their education and equips them with a head start in their career journey. Through the program, Englewood STEM High School students earned their associate degree while still in high school.
The meet and greet with Alderwoman Coleman gave students the opportunity to engage with a community leader who shares their passion for education, the value of working hard and fostering positive change. Through their achievements, these students are reshaping the narrative around education in underserved communities and inspiring others to dream big.
The partnership between Chicago Public Schools, Kennedy-King College, and Englewood STEM High School is a shining example of the potential we can unlock when we invest in the education and future of our youth.
Congratulations, grads!
Spring 2023 Graduates
Kamarah McNulty
Oreoluwa Pelumi
Sharon Agbenike
Deja Miles
Ija Langford
Summer 2023 Graduates
Jikyra Isaac
Simarah Jackson
Deshaun McNeil
Joshua Segun Akadari
Imari Williamson